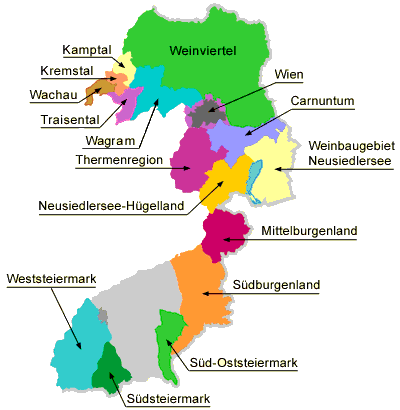 Vin Austria
Austria
Austria is enjoying a renaissance as a wine-producing nation. It has worked its way free from decades-old controversy caused by a careless few, and has emerged as a role model for modern European wine – a leader in quality and innovation. Balancing the traditional with the modern, the Austrian wine industry has retained such classics as sweet Ausbruch and Strohwein, while actively developing modern, consumer-friendly wines such as its signature style: crisp, white, aromatic Gruner Veltliner. Officially, 35 grape varieties are permitted for use in Austrian quality wine, of which almost two-thirds are white-wine varieties. In terms of volume, Gruner Veltliner is by far the most important, followed by Riesling. The finest wines made from these two varieties come from the famous Wachau, Kamptal, Weinviertel and Kremstal regions. Austria wines also follow the Districtus Austriae Controllatus (DAC) appellation system, introduced in 2003. In a similar way to the AOC classification in France, the DAC wine laws impose certain constraints covering permitted grape varieties, alcohol levels and oak maturation regimes.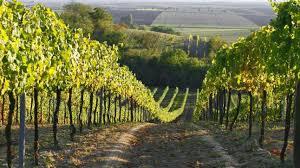 Weinviertel
Weinviertel is by far the largest DAC wine region in Austria. It was also the first Austrian wine region to be given an official DAC title, when Austria introduced its fledgling appellation system in 2002. Wines labeled with the Weinviertel DAC title are dry, mid-bodied, white wines with the trademark citrus and spicy white pepper notes of Grüner Veltliner. Weinviertel is Austria's most important wine region in terms of both its area under vine and the quantity of wine it produces. Grüner Veltliner accounts for more than one half of this area, making Weinviertel home to more than half of all Austrian Grüner Veltliner vines. Zweigelt holds a distant (but steadily closer) second place, followed by Welschriesling, Blauer Portugieser, Sauvignon Blanc and Muscat.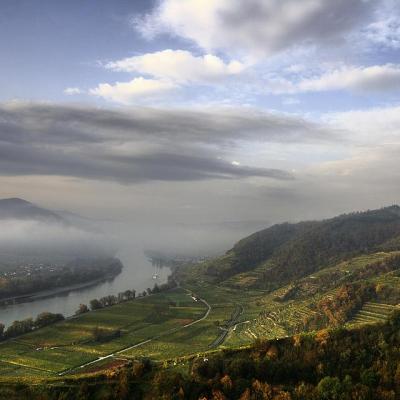 Wachau
The Wachau is a UNESCO world heritage site and a region of great natural beauty, situated in the Danube River valley between the towns of Melk and Krems. Grape varieties Grüner Veltliner and Riesling predominate here on 1.344 hectares, partly planted in terraces arrayed on steeply inclined hillsides terraces. 232 wineries benefit here from top vineyard sites to produce some of the best white wines in the world, with decades of ageing potential. Since the mid-1980s, the dry white wines of the Wachau have been grouped into three categories by the conservation-minded winegrower's association "Vinea Wachau", based on their natural alcohol content: fragrant light wines up to 11.5% alcohol are designated "Steinfeder" (named after the local grass stipa pennata), the classic category (11.5–12.5% alcohol) is known as "Federspiel" (a term borrowed from falconry), while powerful reserve wines are called "Smaragd" (min. 12.5% ​​alcohol). The namesake emerald-coloured lizards like to frolic in the Wachau vineyards on sunny days.